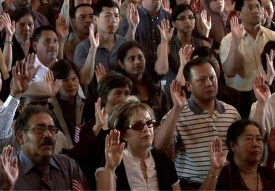 The Naturalized
Filmmaker Aaron Lubarksy will be present for Q&A.

"Of the greatest values that America has," says Vartan Gregorian, president of the Carnegie Corporation, "the concept of citizenship is the most important."

A deported Nigerian leaves behind his family in Minnesota while a Moroccan cook wins the green card lottery. An Uzbeki concert pianist settles in Kansas, as a Nicaraguan refugee votes for the first time. From the gritty streets of Queens to the lakes of Minnesota to the suburban sprawl of California, every year nearly one million immigrants choose to become American in hopes of realizing the American dream.

THE NATURALIZED weaves together the lives of different people from different countries who all share a quest for citizenship by choice, not birthright. This feature documentary travels from a citizenship class in San Jose to a naturalization ceremony in Iraq. Along the way, there's unprecedented access to the United States Citizenship and Immigration Service, revealing the complex process up-close, including a marriage interview and the one-on-one Citizenship Exam. How many amendments are in the Constitution? To become an American, not knowing is not an option.

THE NATURALIZED combines contemporary stories of struggle and success with insightful interviews from notable naturalized citizens like Fareed Zakaria, Alan Cumming, David Rakoff and Isabel Allende. Produced and directed by Aaron Lubarsky ("Journeys with George") in association with HISTORY. Executive producer, Jon Stewart ("The Daily Show with Jon Stewart").

THE NATURALIZED will be preceded by the short film, ALMAZ, directed by Elliot Blanchard.
---
Comments powered by

Disqus
Tickets
The Naturalized
Sunday, July 17, 2011, 6:00 pm–8:00 pm
Produced and directed by Aaron Lubarsky & Executive produced by The Daily Show's Jon Stewart, THE NATURALIZED weaves together the lives of people from different countries who share a quest for citizenship by choice, not birthright. FIlmmaker in attendance for Q&A. A short, Almaz, will precede the feature.
Add to: iCal | Outlook | Google Calendar
Cost: no admission
This Event Has Ended
Location
506 Fifth Avenue, Brooklyn, NY
Directions R or F train to 4th Avenue/9th Street

View on Google Maps